Do you enjoy coffee first thing in the morning? How about a little wake and bake? What if you could start your day by mixing them? Well, now you can! Infusing your coffee with THC is very easy to do and many dispensaries are selling THC-infused coffee beans. 
Cannabis Infused Coffee
The cannabis edible industry is branching out and adding coffee to its repertoire. The simplest way to enjoy THC-infused coffee is to buy some cannabis infused coffee. Many dispensaries are now featuring cannabis infused coffee. These coffees come in a variety of assortments such as whole coffee beans, ground coffee, and even K-cups. A benefit of using manufactured infused coffee beans is consistency. You can count on the amount of THC to be consistent every time you use the infused coffee beans. Currently, THC-infused coffee shops don't exist yet. However, legislation is in the works that could pave the way for cannabis coffee shops to open very soon.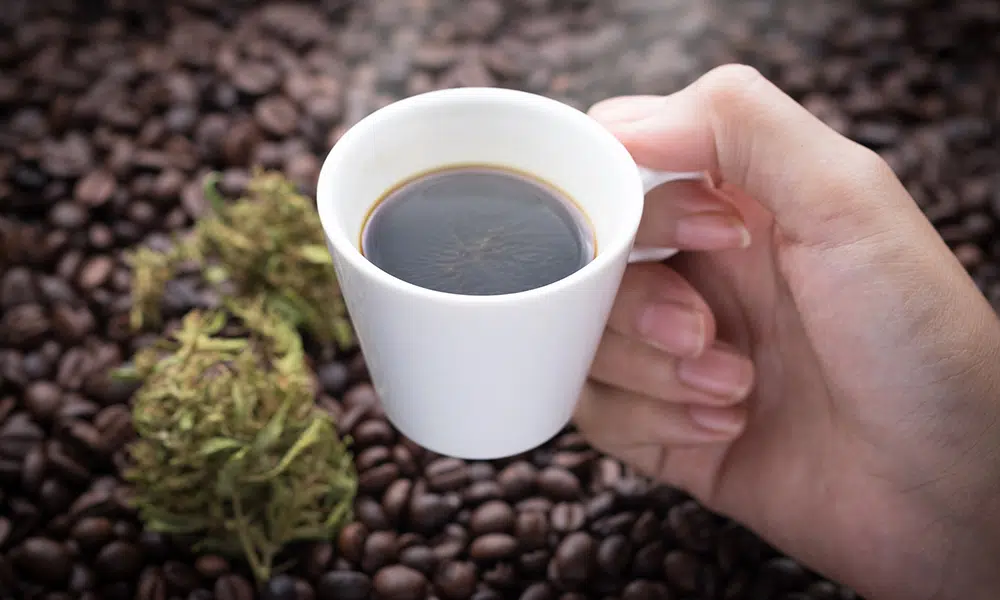 DIY THC-Infused Coffee
Making a cup of THC-infused coffee is a very simple process. All you need is your favorite coffee, water, butter or coconut oil, a sieve, and your favorite cannabis. 
Infusion steps
First, using a grinder and grind about 1 gram of your favorite cannabis. 

Bring 3 cups of water to a gentle boil.

Add about half a teaspoon of butter or coconut oil to the water. The butter or oil will absorb the cannabis.

Add the grounded-up cannabis to the water and let it simmer for 35-40 minutes. Make sure to occasionally stir the mixture to prevent it from sticking to the sides or clumping.

Use a small hole sieve to strain the mixture. 

Make your coffee using your preferred method. 

Add the cannabis mixture to your coffee. Include sugar and creamer if desired. 
For a stronger THC infusion, a dab of your favorite concentrate can be used instead of bud. If you choose to use a concentrate, make sure it's high-quality, full melt grade; otherwise, you'll end up with a chunk of concentrate in your coffee. 
It's also important to consider what strain you're infusing into your coffee. Mixing a "couch locking" strain with caffeine may not yield the best results. The purpose of drinking coffee is usually to help wake you up and give you a boost of energy. Consider getting a cannabis strain that is known for creating an energetic high and avoid the sleep-inducing strains. 
Additional Considerations
It's important to keep in mind that coffee is an upper, while cannabis is a downer. For some people, mixing an upper and a downer can have adverse effects on the body. The first time you try a THC-infused coffee, you may want to plan to stay home and make sure you don't have any adverse reactions to the mixture. Even experienced cannabis coffee drinkers should be cautious when making THC-infused coffee because the potency can change based on the strain of cannabis being used. Once you've discovered your perfect blend, you'll be able to enjoy an amazing caffeinated high. Enjoy!