‌Anxiety is an issue that affects millions of Americans. While some anxiety is perfectly normal (it's a natural stress response), many people feel it every day. It becomes a problem when it occurs frequently, and it interferes with your ability to function at work or in social situations. Studies have shown that CBD can help ease anxiety symptoms, making them more manageable. And one of the fastest-acting methods of relief is CBD vape pens for anxiety. 
CBD Vape Pens Explained
Vape pens are a type of device that vaporizes cannabis, CBD in this case, and turns it into an inhalable vapor. When you take a hit from a pen, the cannabinoids enter your lungs and absorb into your bloodstream. From there, they travel to your brain to begin providing relief. Most people typically feel the effects of vaping CBD (and other cannabinoids) within 15 to 30 minutes. 
Types of CBD Vape Pens
There are multiple styles of CBD vape pens. You should choose one based on your personal preferences:
Disposable pens.

A disposable pen comes pre-filled with CBD oil and a fresh battery. It's ready to use as soon as you remove it from the package. When you finish it, you throw it away and get a new one. It's convenient and easy to use. 

Rechargeable pens.

A rechargeable pen comes with rechargeable batteries. You plug it into a power source using a USB cable when the batteries are low. While more expensive, you can use a rechargeable pen over and over. 

Dry herb pens.

A dry herb pen allows you to vape cannabis buds rather than oil. You can use any strain you like in it, including high CBD varieties. Instead of an oil cartridge, dry herb pens have a chamber. All you have to do is place a small amount of bud inside.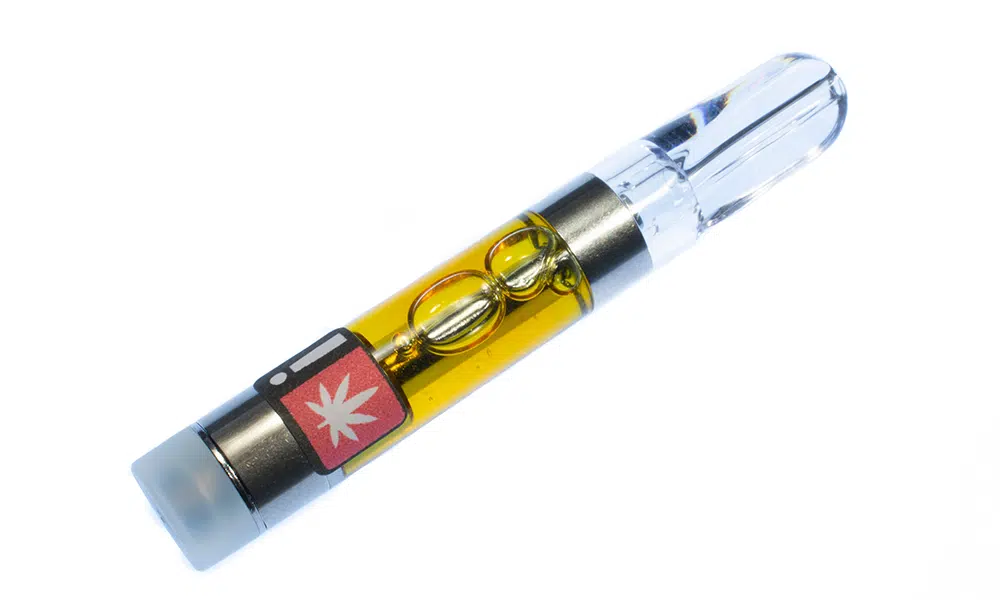 What Dose Should You Take?
As with any other type of cannabis product, the dose you need for anxiety is highly personal. Several factors can affect how much you need, including your physical size, your metabolism, the concentration of CBD in the oil or buds, and the presence of other cannabinoids (including THC) in the product. 
Fortunately, finding the ideal dose for you isn't that difficult. It does, however, require some patience. Even if you use a CBD isolate, the general recommendation is to start low and gradually increase your dose until you find what works for you. 
Will Using a CBD Vape Pen Get You High?
Whether or not a CBD vape pen will get you high depends on the type of product you're using. If you're using a CBD isolate, there is no THC. As such, you won't get high. A high CBD strain that contains an equal amount of THC, on the other hand, could cause some psychoactive effects. CBD does tend to counter the effects, however, so the high you experience will likely be much milder than if you were to use a high THC low CBD strain.
Try CBD Vape Pens to Help Manage Your Anxiety
If you're looking for a way to manage your anxiety symptoms, CBD may provide some relief. With CBD vape pens, you get fast-acting relief in a discreet, easy-to-use form. Check your local dispensary to view your options and choose a CBD vape that fits your needs and lifestyle.