People all over the United States have developped a fondness for CBD, due to its many proven health benefits. CBD is often employed for treating all types of body pain, as well as conditions like anxiety, insomnia, or even more complicated illnesses such as cancer and depression. Most users, however, only go to standard cannabis presentations for their CBD fix. They don't know that CBD oil exists, and that it can be just as effective as a regular strain.
So, what exactly does CBD oil do, and what doesn't it do? Not only does it manage to alleviate symptoms associated with different diseases, but it can also be used to improve your everyday wellness. It is crucial to remember that not all CBD oils are created the same way. This can be a huge difference when selecting the specific oil product you need.
Let's take a look at what makes CBD oil such a prominent cannabis presentation, and how it can be used best. The many CBD oil formats have certain key differences, which will come in handy for you to know. Once you've finished reading, you will be able to find a CBD oil with reliable potency that will deliver the effects you expect from it.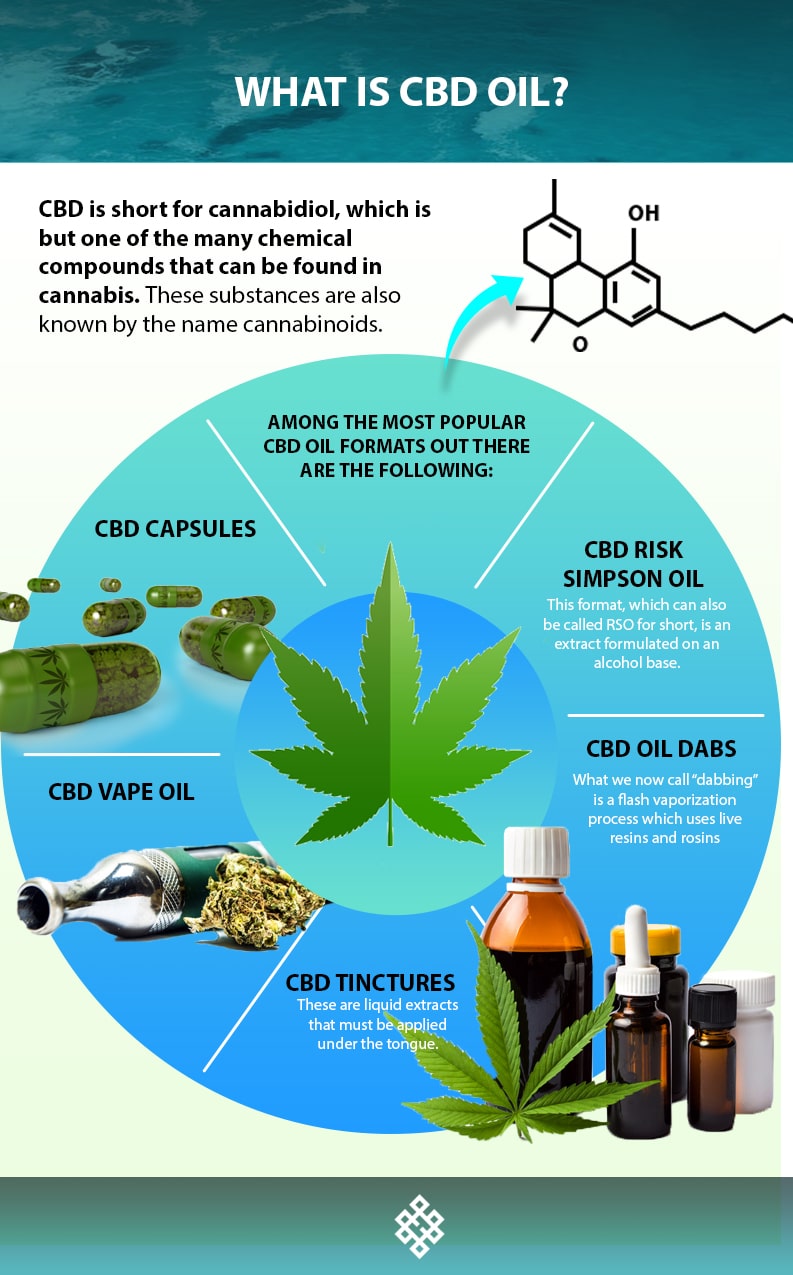 What Exactly Is CBD Oil?
CBD is short for cannabidiol, which is but one of the many chemical compounds that can be found in cannabis. These substances are also known by the name cannabinoids. CBD is probably the most sought after cannabinoid, given that it has many health-boosting properties that users and medical patients across the world find extremely useful.
What we refer to as CBD oil is the extract of cannabis or hemp that is formulated in order to contain high levels of CBD. CBD oil can also have different levels of other plant compounds, depending on the specific needs of the provider.
It is important to remember that CBD products are the only non-intoxicating formulas out there. They are the opposite of products rich in a THC dose, a component which is famous precisely because of its psychoactive properties. Medical patients who are thinking of trying cannabis as a means to cope with their symptoms will be pleased to know that a CBD oil solution will not get them high, but alleviate them nonetheless.
CBD extracts can be generally tagged under the name CBD oil. However, there are many different forms of this delivery method, which is why you should keep in mind that each one of these varies in terms of properties and effectiveness.
Among the most popular CBD oil formats out there are the following:
CBD capsules

: as you would expect, these capsules are filled with CBD oil, and you must swallow them just like a traditional medication. CBD capsules come in bottles, like vitamins or other supplements. They also contain gelcaps filled with a golden oil.

CBD vape oil

: this is a format that comprises both pre-filled oil cartridges that are attached to vape batteries and vape juices that can be smoked in e-cigarettes. This method is very popular with people who want to avoid smoking regular strains due to the unwanted health effects.

CBD tinctures

: these are liquid extracts that must be applied under the tongue. That way, CBD is absorbed and manages to enter the bloodstream. If you want to get a CBD tincture, keep an eye out for the distinctive glass bottle it usually comes in.

CBD Oil Dabs

: In this format, you will be treated to a butane hash oil with a rich CBD dose. What we now call "dabbing" is a flash vaporization process which uses live resins and rosins. This is usually a delivery method favored by experienced consumers; however, if you are a first-timer who's thinking about trying CBD oil dabs, we suggest you ask your local Haven budtender for specifications.

CBD Risk Simpson Oil

: This format, which can also be called RSO for short, is an extract formulated on an alcohol base. RSO can either be ingested or simply applied on the skin, which varies in terms of what the consumer expects to get from it.
CBD Oil Has Many Health Benefits
People who have never tried out CBD always wonder if they will get high after consuming it. The answer is no, both for CBD in general and CBD oil in particular. Psychoactive effects in cannabis are linked to THC, the other major endocannabinoid that can be found in the cannabis plant. Unlike THC, CBD does not have any psychoactive properties, but only delivers a soothing and relaxing effect.
Professionals from the cannabis industry usually recommend that consumers get a balanced mix in their products, so that any potential psychoactive properties can be counteracted with CBD. However, most CBD-exclusive products still retain a small percentage of THC in the formula they use. In general, CBD products are only allowed to have less than 0.3% of THC. That small amount of THC will never result in any psychoactive effects in the user, so rest assured that you will not be experiencing an unwanted euphoric high from a regular CBD oil format.
If you want to get a closer understanding of how the CBD and THC percentages differ in your product of choice, you should ask your local Haven budtender. It's possible to get a small bit of THC from a product that has a balanced CBD and THC mix, which is why bringing this subject up with your local budtender is the best choice. Although less than 1% of THC won't get you high, this usually varies from person to person.
Even though CBD does not have any psychoactive effects, this doesn't mean it's undetectable in the human body. There are many factors that should be considered in order to ascertain this, such as consumption method and the consumer's biological traits. Among the most common CBD oil effects are physical relaxation and stress relief, but some users can also feel slightly sedated from time to time.
So, there you have it. These are the most important factors to take into consideration about CBD oil and how it can be a reliable delivery method. Feel free to scout Haven's offers for available CBD oil products!